Hamble Point Marina and Area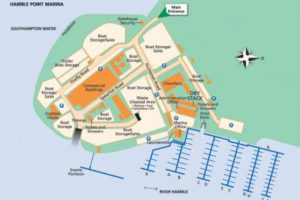 Hamble Point Marina is situated at the mouth of the River Hamble, with easy access to Southampton Water and the Solent, a favourite with racers and cruising yachtsmen alike.
The 230 berth marina itself offers extensive shore-side facilities. Besides a well-stocked chandlery, bar and restaurant, Hamble Point also has the best range of new and used boats for sale on the South Coast.
Hamble Point Marina Facilities and Services
The facilities and services available within close proximity to the marina include the following:
| | |
| --- | --- |
| Banking | There are no banks in Hamble village: however there are two cash points; one at the co-op in the centre of the village and one at the Post Office on Coronation Parade, Hamble Lane. |
| Chandlery | A Force 4 chandlery is located on site. |
| Customs Forms | For vessels travelling to destinations outside the EC or to the Channel Islands, form C1331 should be completed. Customs forms are available from the Marina Office. |
| Dogs | Dogs are welcome in the marina but must be kept on a leash at all times. Please prevent them from fouling and should an accident happen please clean it up!  Dogs may join your charter (additional fee applies), please contact us for more details. |
| Fuel | Unleaded petrol and diesel are available from Port Hamble Marina. For opening times, please call Port Hamble on 023 8045 2741. |
| Marina & Administration Offices | The Marina Office is open 24 hours a day throughout the year. If the office is locked, the duty Dockmaster will be patrolling the pontoons and is contactable on 07831 452447 or VHF Channel 80.  The Administration Office is open 8.30am to 5.30pm, Monday to Friday. |
| Ice | Ice can be purchased from the Marina Office. Cold blocks can be frozen for you at no charge. |
| Launderette | Coin operated washing and drying machines are located in the launderette behind Hamble Point Yacht Charters office. Change can be obtained from the Dockmasters. |
| Local Interest/ Entertainment | A customer information file is available in the Marina Office giving details of local restaurants, events and places of interest. |
| Marina Regulations | These can be found in the Marina Regulations booklet available from the Marina and Administration Offices. |
| Marina Tenants | The marina offers a wide selection of services with over 70 on-site tenants. A list of tenants and services on site is available at the Marina Office. |
| Medical Emergencies | Should you require the services of a doctor, dentist or hospital, please see a member of staff who will give you the necessary information and/or directions. |
| Refuse Disposal | Tidy bins and skips are available at each bridgehead. Bottle bins are located at the side of the Ketch Rigger pub. Please use these to keep the marina tidy. |
| Restaurants and Pubs | The Ketch Rigger pub/restaurant is situated at the marina next to Hamble Point Yacht Charters' office, whilst in Hamble village there are several restaurants, either in the local pubs or independently run. |
| Security | The marina is regularly patrolled by staff. Security cameras operate around the site and 24 hour recordings are taken. |
| Shop | Supplies are available from the Co-op in Hamble village or a 20 minute drive away from Tesco in Bursledon, near the M27 junction 8, alternatively contact us for details of our provisioning service. |
| Tides | At certain states of the tide please take care when manoeuvring in and out of your berth due to cross currents. |
| Toilets/Showers | There are public toilets located behind Hamble Point Yacht Charters' office. Toilets and showers are situated at the end of Saltmakers House near to the hoist bay. There is another toilet/shower block on the far side of the marina. Access is gained by a code which we will issue to you. Please do not pass the code on to third parties. These facilities are open 24 hours a day. Please note, the use of marine toilets in the river is forbidden and is a local bye-law. |
| Trolleys | Luggage trolleys are available in the car park. A £1 coin will be required to release the trolley and is refunded on return of the trolley to the trolley park. |
| Urgent Messages | Urgent messages can be logged with us or with the Marina Office. |
| Visitors and Visitor Berths | Visitors are welcome. They should contact the Marina Office or call on VHF Channel 80 to be allocated a berth and report to the Marina Office upon arrival. Please note, visitor berths must be vacated by 12.00 noon on the day of departure. Yachts chartered from us may use the berth from which the yacht is picked up free of charge throughout the charter period. |
| Water | Fresh water is available from the hoses on the pontoons. Please leave the hoses as you would like to find them and conserve water usage when washing down, especially in the summer. |
| Weather Information | We will happily provide an up-to-date weather forecast; but additionally, weather Information is displayed at the top of each bridgehead and in the Marina Office. |
| WiFi | Our WiFi is available to you free of charge within our office and the Ketch Rigger provide a free WiFi service to customers. MDL also provide a WiFi service – ask at the marina office for access and payment details. |
CONTACT US